Regular price
Sale price
$24.00 USD
Unit price
per
Sale
Sold out
This cleanser was designed for those with congested skin or who suffer from enlarged pores, pimples or blackheads. The charcoal works to purify, cleanse and clear toxic build-up that contributes to blackheads, pimples and hormonal breakouts. 
Benefits
Unclogs & minimizes pores

Removes toxins (detoxify the skin)

Antibacterial

Reduces breakouts

Reduces oiliness
Description
Smoothing cleanser to remove impurities, unclog + minimize pores.
APPLICATION

Apply a dime-sized amount of cleanser twice daily in damp palms and gently massage your face for 20-30 seconds before rinsing off.
SIZE

100ml / 3.4 oz or 162ml / 5.5oz
KEY INGREDIENTS

1. Activated Charcoal - Its antibacterial properties help fight bacteria and other impurities from your pores, detoxifies the skin from toxins, and balances oil production.
2. Kaolin Clay - Purifies and detoxifies the pores, and removes dirt and pollution. Improves skin elasticity, and delays the signs of aging.
3. Rosemary Oil - Reduces inflammation and improves circulation. It has antibacterial and antiseptic properties that are great for fighting acne bacteria
FULL INGREDIENTS LIST

Aqua, Cocamidopropyl Betaine, Alpha Olefin Sulfonate, Salvia rosmarinus oil, Hamamelis Virginiana (Witch Hazel) Water, Rosa Damascena Flower Distillate, Vegetable Glycerin, Sunflower Lecithin, Optiphen plus (Phenoxyethanol, Caprylyl Glycol, Sorbic Acid), DL Panthenol, Allantoin, Xanthan gum, Activated charcoal, Kaolin clay, Polyglyceryl-6 Caprylate; Polyglyceryl-4 Caprate; Polyglyceryl-4 Cocoate; Polyglyceryl-6 Ricinoleate, Lavender essential oil, Oatmeal & Honey fragrance oil (Phthalate Free)
WARNINGS

Sensitivity test: It is highly recommended to try any new product on a small area and leave it for 24 hours to see if any irritation / allergic reaction occurs before using it regularly.
DISCLAIMER

This product has not been evaluated by the Food and Drug Administration. This product is not intended to diagnose, treat, cure, or prevent any disease.
Share
View full details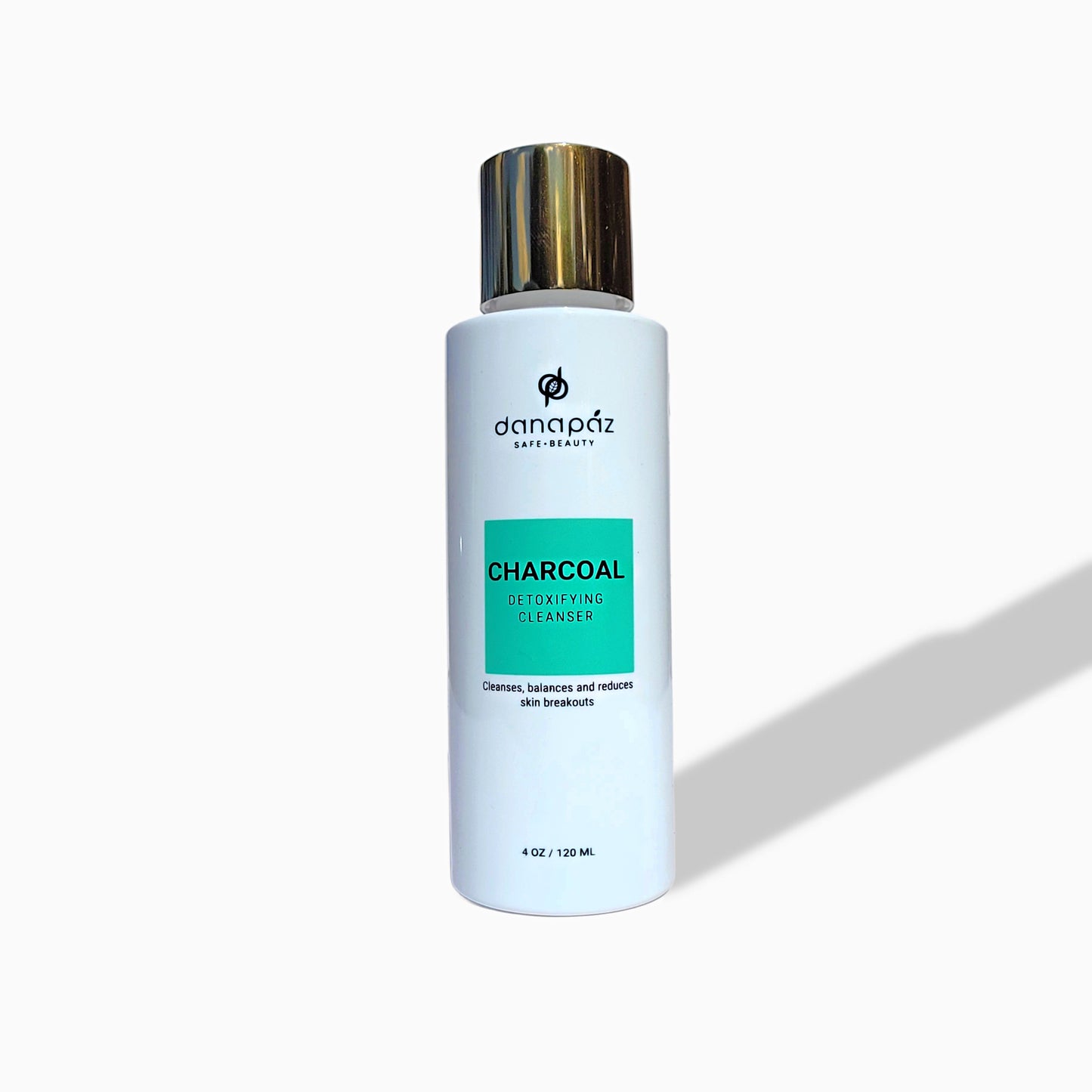 Safe beauty
Danapaz beauty is a leader in breaking the boundaries of complex skincare routines by formulating safe and non-toxic beauty products rooted in botanical abundance to keep even the most sensitive and reactive skin safe, healthy and aging gracefully.
Questions & Answers
Q: Will this cleanser dry out my skin?
A:
No. The Charcoal Detoxifying Cleanser was designed to BALANCE your skin and excessive oiliness. It is not a drying product and won't dry out your skin even if you are not oily. It is a very gentle yet super effective cleanser.
Q: Is this cleanser good for sensitive skin?
A:
Yes. It is a very gentle cleanser
Q: Can I use it as a spot treatment for pimples
A:
Yes you can. Put a dot of the cleanser on a pimple and let it sit overnight.
Q: Is it suitable for all skin types?
A:
Most of our customers are using it for every skin type except of very dry and flaky skin.